No.1 gold mining output -3% after 6% drop in 2017...
GOLD MINING output in China fell almost 3% in the first 3 months of 2018 compared with the same period last year, according to new data.
That extends the 6% annual drop recorded in 2017 according to the latest statistics from government-backed body the China Gold Association.
The world's No.1 gold-mining nation produced 98.2 tonnes in the first quarter, the CGA said down from over 101 tonnes a year earlier.
Environmental regulations drove the drop, the CGA says, forcing the "clean-up and orderly withdrawal of mining rights in the country's protected areas [while] some gold mines closed, causing China's gold production to
continue its downward trend
."
China's management of hazardous waste, for imstance, has become increasingly stringent in recent years, with a 2016 order listing cyanide tailings from gold mining
"as a danger"
.
Globally 2017 saw a new record for gold-mining output, creeping almost 1% higher to 3,292 tonnes according to specialist consultancy
Metals Focus
, with the drop in China offset by 8% growth from No.3 producer Russia and 6% growth from No.4 the US.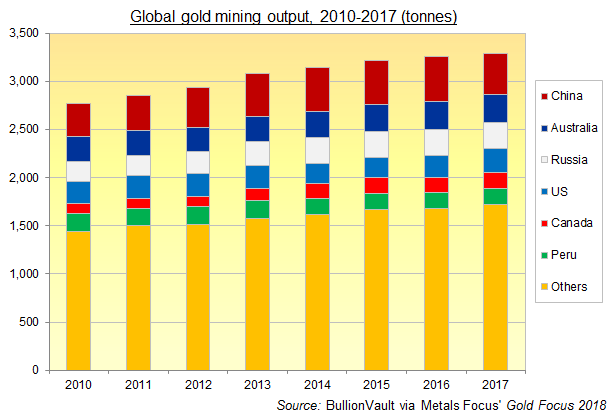 Polyus' stock price last week sank by almost one-fifth after majority shareholder Suleiman Kerimov was sanctioned by the United States Treasury "for being an official of the Government of the Russian Federation" – now blamed by the UK, US and their Western allies for the attempted murder of ex-spy Sergei Skripal in Britain in March.
Source: bullionvault.com