GOLD PRICES fell to new 2018 lows against a rising Dollar for the second day running on Wednesday, falling further below $1300 per ounce as world stock markets dropped and longer-term interest rates touched new 7-year highs after stronger-than-expected US economic data.
After
Tuesday saw March's retail sales
revised higher while New York State manufacturers reported the strongest inflation since 2011, the
Atlanta Fed now sees US GDP
growing 4.1% per year between April and June, the strongest quarter since 2004 and higher than all the 'blue chip' economic forecasts it tracks.
Betting on US Fed futures contracts today put a 95% certainty on the Federal Reserve raising its key interest rate at mid-June's meeting according to the
CME's FedWatch tool
, with a 44% chance of 2 further rate rises after that in 2018 up from 34% this time last month.
"As rates rethink the Fed outlook," says FX strategist Kit Juckes at investment bank Societe Generale, "the Dollar remains king of the FX market.
"Last time this happened, it took a significant US equity market correction to stop the move."
Major government bond prices extended their drop on Wednesday, forcing up the yield offered to investors as well as longer-term financing costs.
The last time 10-year US Treasury debt offered today's 3.06% yield, Dollar gold prices were $300 per ounce higher.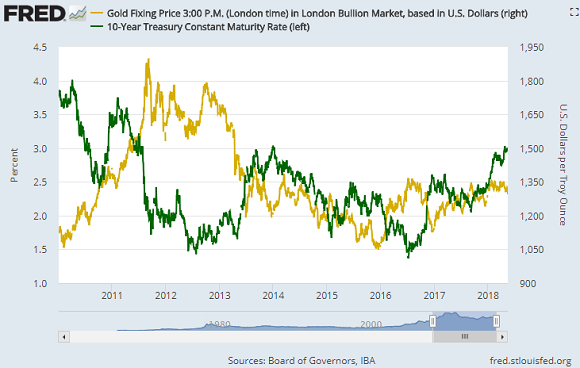 "Good volumes were seen today in Asia, although price action remained fairly contained for the yellow metal," it adds, with speculative traders and wealth management sellers "countering Asian physical buying."
Shanghai premiums edged up to $7.50 per ounce above quotes for London settlement at China's afternoon benchmarking, still below the typical incentive for new imports into the No.1 consumer nation.
Inflation across the 19-nation Eurozone – the world's largest economic bloc – held at 1.2% per year in April, new figures said today.